Just as the name suggests, tubular scaffolding are temporary structures erected using galvanized steel or aluminum pipes. These tubes are held together by scaffold couplers to support varying workloads. Most parts of this type of scaffolding is constructed by metallic elements and planks to provide a stable and safe platform for workers.
Tubular scaffolds are constructed on the perimeter or external parts of a structure to offer a convenient platform at the required height. This type of scaffold is recommended when working on heights of 1,500m or more above the ground. However, it still important that you get to know some important information about tubular scaffolding in order to determine if it is the best for your project.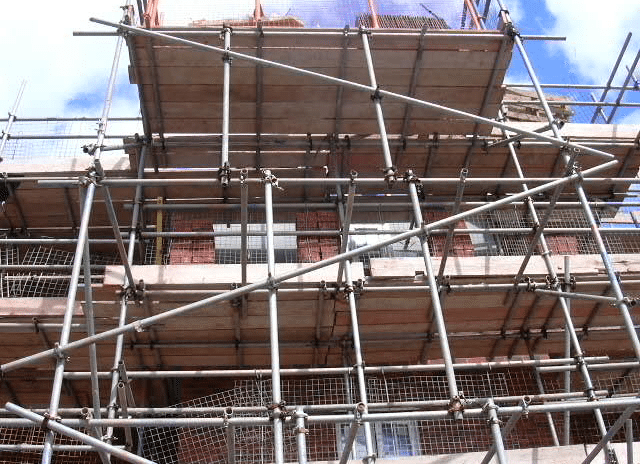 Components of a Tubular Scaffold
There are various kinds of scaffolding basic elements and accessories that are used in setting up a tubular scaffolding. You may not be able to know all of them but, the following are some basic ones that are important to take note of;
These are the main components of this type of scaffolding, and are mainly made of steel or aluminum pipes or tubes. The tubes come in various dimensions and properties suited for supporting heavy loads and traffic generated when working. The best pipes for scaffolding are galvanized and also accorded surface treatments for added strength and lifespan. Besides, you should also make sure that the tubes you acquire are designed to the relevant standards.
Also known as clamps, couplers are basic scaffold components used to join together the frames for the structure. They are mainly used to create an angle for the proper alignment of the scaffold. There are various kinds of couplers that you can choose from for setting up a tubular scaffold including, right angle couplers, swivel couplers, putlog couplers, sleeve couplers, joiners among others. A professional can help you in identifying the best couplers for your structure.
After the structure is set up, planks or boards are erected to give workers a surface or platform to work from. Planks should always be strong enough to support the weights of workers, building materials and their tools. Considering that these components experience constant traffic as workers move from one station to another, they should be regularly inspected for bends, twists or other damages to ensure scaffolding safety. Besides, they are also usually tested and approved before use so that workers are not exposed to risks.
Tubular scaffolding components can either be horizontal, vertical or angled depending on how the structure is designed or the kind of work to be conducted from it. Other scaffolding components used in setting up a tubular scaffolding include, braces, base plates among others.
Benefits of a Tubular Scaffold
Considering the rugged construction of basic components of a tubular scaffolding, it can be used in almost all kinds of construction projects for new structures as well as existing ones.  The following are some of the advantages of using this type of scaffold on your project;
Easy to set up and disassemble
A tubular scaffold has minimal components, which ensures easy and fast set up without the need for hiring professional scaffolding erection services. This can go a long way in saving time for erecting or dismantling the structure and also unnecessary expenses. Besides, the tubes and frames used in setting up this type of scaffold are also light in weight and, can be assembled, dismantled and moved from one workstation to another with much ease.
Highly durable
Tubular scaffolds are erected using galvanized steel, aluminum and other sturdy components that can withstand combinations of workloads and pressure in construction sites. Besides, the materials used in building this structure have the capacities to withstand use in varied weather conditions without experiencing much rust or corrosion. Even under intense pressure and weights, it is very hard for the main components to succumb to bends or misalignment.
Versatile
Tubular scaffolding is one of the most versatile types of scaffolding since it can be easily adjusted to various levels as required by workers. This makes it ideal for handling various kinds of project more conveniently. In fact, tubular scaffolds can be adapted to just any building or structure under construction. Some of the popular types of tubular scaffolding are the free standing and tower scaffolds.
Tubular scaffolding can also be easily adjusted to various levels according to the needs of the workers, which makes them very convenient in a wide range of construction projects. Besides, the scaffold can also be mounted on casters with so much ease. As a result of this flexibility, tubular scaffolds are becoming an ideal choice for many people in the construction industry today.
Cost-effective
Another advantage of obtaining a tubular scaffold is, it is a more cost-effective option. This can be first, attributed to the minimal components of the structure. Since setting up this scaffolding is also quite simple, using one on your project could be a great way of saving up on the total expenditure. And, the durability of the scaffold's components also means that not much maintenance is required for the structure, hence, lower operational costs.
How to Get the Best Tubular Scaffold
Despite the seemingly simple design of tubular scaffolding, there are varieties of the scaffolding in the market that you can choose from. Therefore, it is also important that you know how to select the most appropriate design or model of a tubular scaffolding for your project and budget. Apart from relying on the information provided online, making inquiries from a professional scaffolding company could be the most convenient option when looking for a tubular scaffold.
Singapore Scaffolding offers a wide range of the best quality tubular scaffolding that you can acquire for just any construction project. We can also deliver custom designed tubular scaffolds, which are tailored to specific customer demands. Our company is focused on delivering superior quality, highly efficient and the most affordable scaffolding products and services in Singapore.
For inquiries about the best tubular scaffolding for sale or rent, do not hesitate to get in touch with us.
HDB Registered Contractor
License Number: HB-09-5474D