Many people usually confuse scaffold planks with catwalks. Although they look almost similar in shape and even size, these are two different scaffolding basic elements. Scaffold planks or boards are long and flat in shape to provide workers with a place to stand and move along when going about their duties. The boards are not placed on each section of the scaffold, instead, raised from one section to another when erecting the structure.
Singapore Scaffolding specializes in the best quality scaffold planks/ boards for all your scaffolding needs. We offer a wide range of standard scaffold boards as well as customized ones that you can acquire for specific structures and jobs. And, we do not just focus on quality and variety but also costs to enable you get the most affordable scaffolding solutions for your project.
Types of Scaffold Planks/ Boards
In order to meet the diverse scaffolding requirements, we supply various kinds and designs of scaffold boards/ planks. Our company stocks scaffolding products that are directly acquired from major manufacturers so you are able to get the best value in every pack. Our scaffold boards are designed with unique safety and efficiency features.
The following are some of the main types of scaffold planks/ boards that we offer;
Wooden Scaffold Planks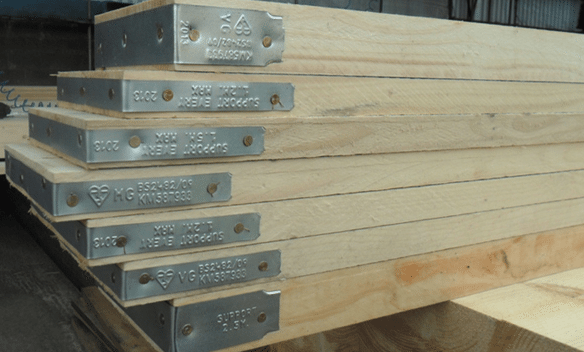 Unlike what some may think, wooden scaffold boards are quite safe for working from low to high-rise construction sites. Over the years, we have been able to deliver high quality wooden planks for various construction projects and, there is no doubt you can also get the best experience with these products. Our wooden planks can be used in maintenance and repairs of existing scaffolding as well as erecting new ones.
The wooden scaffold planks/ boards have undergone numerous treatments for enhanced strength to withstand heavy loads and activities. Besides, they are also long lasting and very easy to transport when switching job sites. These scaffold planks are also more cost-effective and can enable you to save some money too while ensuring safety and convenience for your workers.
Galvanized Steel Scaffold Planks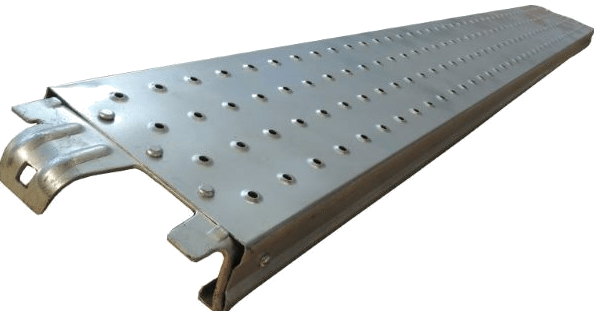 We supply a wide selection of galvanized steel scaffold planks that are light in weight and versatile. The boards have various slip-resistant features like, stamping holes to avoid workers from sliding off the surface. Considering the strength of steel, these planks can last almost a lifetime if used appropriately.
The importance of steel is, it can withstand heavy weights and intense pressure from so much traffic. On the other hand, our steel scaffolding planks can also be used on all kinds of weather conditions without experiencing rust, corrosion, bends or wrong alignment. As a result of this, there is guaranteed safety and convenience in all your construction operations.
Based on the type of scaffolding that you have or planning to set up, we can help you choose the right scaffold planks or boards. Our engineers have many years' experience with scaffolding to offer just the right advice. We will make sure that you get all the necessary information about the various kinds of scaffold planks that we offer so as to make the best choice.
Features of Our Scaffold Planks/ Boards
Even with proper knowledge about the various types of scaffold planks/ boards that we offer, it is still important that you also get to know about their features. This will enable you to determine some of the things to expect whenever you acquire these products from us. The following are some of the key features of our scaffold planks or boards;
Available in various Sizes
Size is always an important aspect when choosing scaffold planks because you need one that will perfectly complement other scaffolding components. Hence, we offer diverse sizes that you can select from including, 2ft, 4ft, 6ft, 8ft, 10ft and 13ft. For wooden planks, they are cut just to the right thickness that can withstand use in construction projects. Besides, our scaffold planks are also available in various widths.
High Quality boards
All the scaffold planks and boards that we offer are also designed to last so you are not bothered with frequent breakdown or maintenance. We only stock products from renowned brands that guarantee better performance, sustainability and efficiency. Our boards are also eco-friendly. And to prove this, we always ensure that you get a document showing all the details about every piece that you purchase. This will enable you to determine the product's manufacturing information and other important details.
Versatile
What more could you ask for with a scaffold board that can be used in all scaffolding systems? The scaffold boards and planks that we offer are available in standard configurations as well as customized alternatives. Depending on your specifications, we can always deliver scaffold boards that are tailored to diverse scaffolding designs.
Our scaffold planks and boards also have the ability to withstand use in all weather conditions, which can go a long way in ensuring convenience. Apart from the common wooden planks, we also have mono sheeting boards that are resistant to the impacts of rain and wind. Besides, our scaffold planks can be used in erecting scaffolds for residential, commercial and industrial work.
Affordable
Affordability is an aspect that we are always very keen on to ensure that every customer is able to get the best quality scaffold boards for their budgets. With us, you no longer have to spend more on scaffolding products and services. Our scaffold planks are fairly priced to enable you save more on the overall costs of construction projects. In case you buy in bulk, there is even much greater chance of enjoying the lowest prices in the market. Our commitment is to make it easier for individuals and construction companies to acquire the best scaffolding solutions without any financial strain.
Instead of searching far and wide for high quality and affordable scaffold planks/ boards, simply talk to us. We can help you get the best deals on a wide range of scaffolding for sale and hire in Singapore.
HDB Registered Contractor
License Number: HB-09-5474D